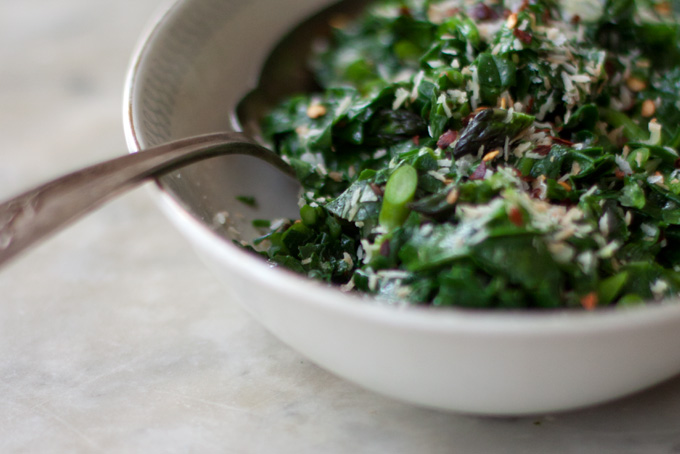 You've
heard
me
mention
this before, but I'm enthusiastically recommending to you a copy of
Super Natural Every Day
. I've been so inspired and pleased to find new, fresh ideas on healthy ingredients, inspired methods and creative touches that feel accesible, flavorful and surprising. While the recipes stand on their own, the the inspiration has been enough to already take basic new ideas and apply them into my own tasty creations.
For dinner tonight, I did such that. Unfortunately, there was no camera handy to capture the results, so I've included the inspiration photo from Heidi's
post
.
Springtime Chop Chop with White Beans and Poached Egg:
1 can cannellini beans (drained and rinsed)
3 tablespoons olive oil
1 tablespoon red pepper flakes
1 teaspoon salt
1 small chopped shallot
handful of finely chopped green beans
5 sprigs asparagus cut diagonally into 1 inch pieces
1 big rib (precisely) sliced celery
4 healthy florets of brocoli loosely chopped
Big handful of chopped spinach
squeeze of fresh lemon juice
black pepper
wait for it...
1 beautifully fresh egg, poached
Heat oil, red pepper flakes and salt until nice and warm on medium heat, then add beans. Let cook until beans begin to brown a bit, then add shallots. Stir evenly. Meanwhile, begin heating water for your poached egg (don't forget to add a little vinegar to help it coagulate). Toss all veggies into your pan, except for the spinach, and reduce the heat a little so your veggies don't cook too fast or (God-forbid) overcook; they should remain bright green and a bit crunchy throughout. Stir again to coat all the veg in a little olive oil. Poach the egg while the veggies are lightly cooking and toss in spinach so it cooks for just a few minutes, stir, toss and make sure everything is evenly incorporated.
Serve in a bowl with the egg right on top and garnish with fresh ground black pepper.
Heaven (and plenty of fresh green earth) in a bowl.